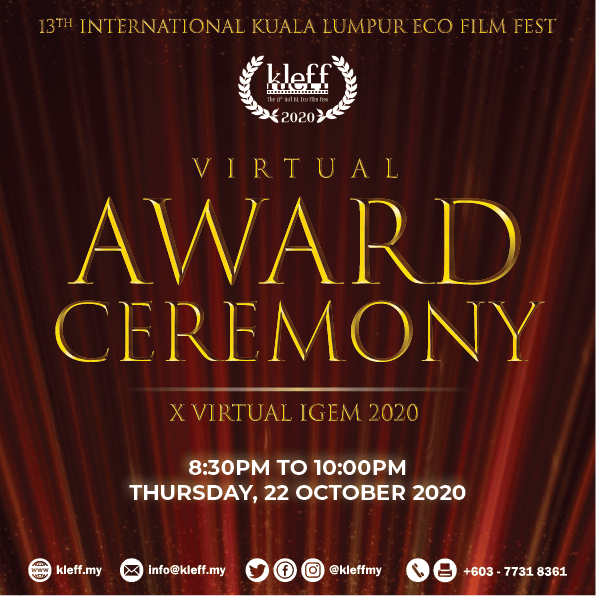 [FOR IMMEDIATE RELEASE]
22nd October 2020, Kuala Lumpur – The 13th International Kuala Lumpur Eco Film Fest (KLEFF 2020) Award Ceremony is a prestigious event to give recognition to the work of filmmakers, cinematographers, storytellers and concerned experts  from around the globe to shine light on climate crisis issues and distressing environmental problems worldwide.
The digital KLEFF 2020 received a total submission of 118 climate- and environment-themed films from 44 countries globally and out of these, 59 deeply thought-provoking films of various genres and lengths are screened throughout the week-long festival (19-25 October) via KLEFFlix, KLEFF official Digital Streaming Platform.
MEDIA KIT LINK: http://bit.ly/KLEFFMediaKit2020
The call for a digitally-run award ceremony did not come easy for the committee, yet decided necessary, especially now when it is crucial to continue the advocacy for climate justice, in line with this year's theme of Climate Injustice: Pick a Side.
The ceremony was graced by Guests of Honour – Royal Patron of IGEM; Yang Amat Mulia Tunku Zain Al-Abidin Ibni Tuanku Muhriz, Dr. Nagulendran Kangayatkarasu from the Ministry of Environment and Water (KASA), KLEFF Festival Founder and Honourary Advisor; Dr Yasmin Rasyid and KLEFF Festival Director; Fadly Bakhtiar, with members of media, fellow KLEFF filmmakers, supporters and viewers tuning in from the comfort of their home – made possible with KLEFF official Digital Platform Partner, the Virtual International Greentech & Eco Products Exhibition & Conference Malaysia (IGEM) 2020.
In this current situation where people are staying at home to curb the spread of Covid-19, the call for action for climate justice has never been more convenient and pertinent.  
"I am immensely grateful to the works of filmmakers who provide us with entertainment and enlightenment when we are stuck at home, even more so, the talented people of the cinematic world who also strives for a more sustainable world", praised Yang Amat Mulia Tunku Zain Al-Abidin during his opening speech.
"For the past 13 years, EcoKnights has been immensely productive, from getting huge interest from the public with over 1,000 environmentally films being submitted to the festival from over 100 countries, in the past years," he added.
Founded and initiated by non-governmental environmental organization EcoKnights, KLEFF is Malaysia's longest-serving platform that promotes the notion of sustainable living through the power of audio/visual materials.
"KLEFF started with a crazy vision [that] I had in 2008, where we required a more creative approach to open up the mindsets of Malaysians to understand what sustainability is all about… Films make profound impact on people – it changes mindsets, shapes perspectives, gives you knowledge and information, and more importantly it motivates you to take actions," shared Dr Yasmin Rasyid, KLEFF Festival Founder and Honorary Advisor.
This year's line-up of films was none like the committee has ever seen before. Carefully evaluated by KLEFF 2020 juries – Elina Jani, Iedil Dzuhrie Alauddin, Dr Chen Pelf Nyok, Dr Kendy Mitot, Justin Wong, headed by KLEFF Festival Director, Fadly Bakhtiar, five (5) major categories were awarded to the winning filmmakers; Best Feature Film / Long Documentary, Best Short Film, Best Short Documentary, Best Public Service Announcement, Best Animation – with the annual Special Jury Award.  
"I, as one of the juries for this year's festival, I have watched the films and I am deeply moved, inspired and motivated by all of the filmmakers hard work and we, the KLEFF committee hope that more people, if possible all of Malaysians and everyone in this world can at least manage to watch this films once in their lives or more and that they will be empowered as how these films have empowered us here at KLEFF," commends Fadly during his opening remark.
Evolving with the digital trend and adapting to the new norm may be grappling to some during these unprecedented times. Nevertheless, one thing that EcoKnights as the organizer of KLEFF discovers is that digital advocacy must continue – especially in the current era of The Information Age, where news travel faster and important messages can be shared to a wider mass digitally.
This year's KLEFF 2020 Award Recipients go to:
Best Feature Film / Long Documentary awarded to The Future of Flight by Larissa Klinker (Germany)
Best Short Film awarded to It's Look Sunshine by Kim Seunghwan (South Korea)
Best Short Documentary awarded to From Kurils with Love by Taylor Reese (United States)
Best Public Service Announcement awarded to USLP Shower by Bauddhayan Mukherji
Best Animation awarded to Gon, The Little Fox by Takeshi Yashiro (Japan)
Special Jury Award awarded to From Kurils with Love by Taylor Reese (United States)
-End-
ABOUT THE INTERNATIONAL KUALA LUMPUR ECO FILM FEST (KLEFF)
The International KLEFF is Malaysia's first and longest-serving platform promoting sustainable living through showcases of environment-themed films, workshops, talks, exhibitions, Green Market, local performances and other engaging activities. KLEFF features ground breaking films that kindle important dialogues, traversing the relationship between humans and their environments, challenging the way people think about the natural world and inspiring them to discuss, explore and act on important environmental issues.
KLEFF 2020 is still on-going till 25 October with more line-ups of sustainability-themed activities from film screenings, workshops and talks, a fundraising musical gig and moreFurther information may be found at kleff.my or KLEFF social media pages @kleff_my. 
ABOUT ECOKNIGHTS®
EcoKnights® is a not-for-profit environmental organisation that provides and delivers development and environmental interventions to communities, government agencies, learning institutions, and companies to mobilise and catalyse the stakeholders towards sustainable development across trans- and interdisciplinary fields to build bridges towards achieving sustainable communities and companies across five main pillars. 
The pillars are CSR and Partnership, Public Outreach, Community Development & Education (CDE), Rehabilitation, Restoration and Conservation (RRC) as well as Youth Development & Volunteerism (YDV), supported by Sustainability Communications. Each pillar helps to strengthen the legacy of EcoKnights as it empowers the Knights to ideate, create, run and organise meaningful projects to impart long-lasting sustainable and economic impact to the country.
_________________________________________________________________________________
*For any media inquiries, kindly contact Festival Media Manager, Ms. Fara at fara@ecoknights.org.my