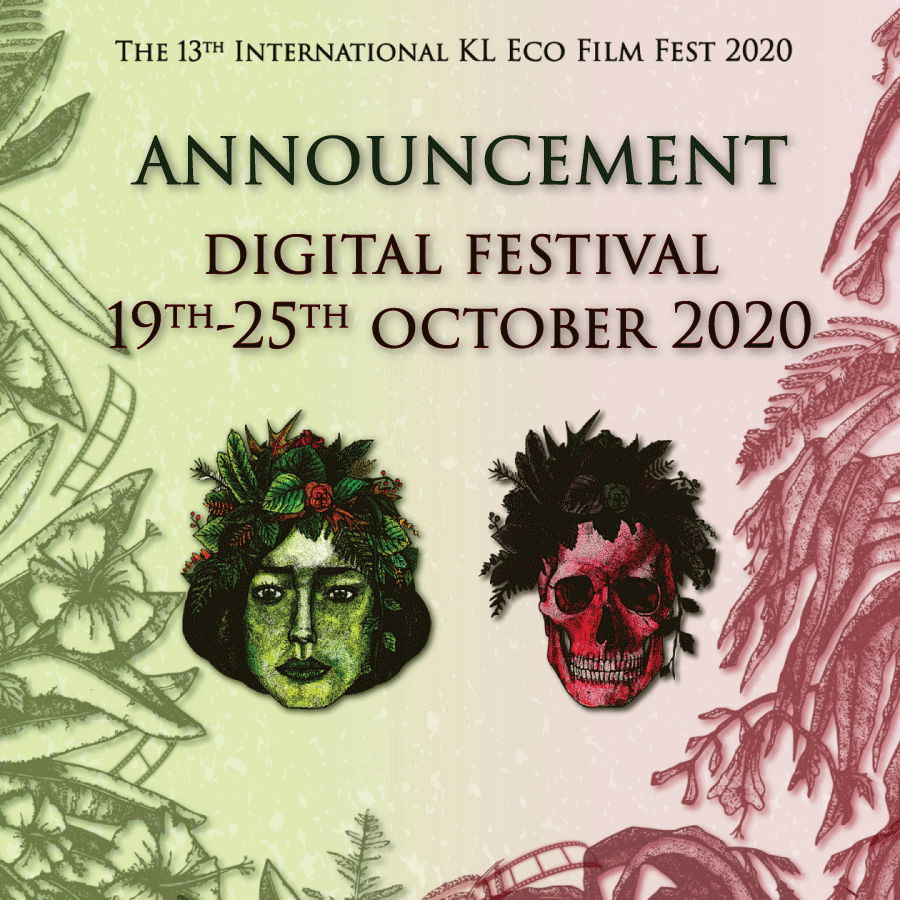 [For Immediate Release]
Media Kit Link: http://bit.ly/Media-Kit-KLEFF2020
16th September, Kuala Lumpur – The show must go on; the 13th International Kuala Lumpur Eco Film Fest (KLEFF 2020) set sail towards a digital course as the coronavirus outbreak continues.
The inaugural digital KLEFF festival is set to run week-long from the 19th to 25th of October, with yet another feast of sustainability-driven activities catered for all walks of life. With the theme "Climate (in)Justice: Pick A Side", the festival received 118 film submissions from 44 countries, with 53 films confirmed to be screened during the festival.
"The decision to create a digital platform this year is motivated by the belief that environmental advocacy to fight climate injustice must go on, and the call for climate action never stops, even amidst a global pandemic," said KLEFF Festival Director, Fadly Bakhtiar.
"The public confidence and partnering support by stakeholders in the last 12 years have been incredible thus far, hence strengthening our commitment and determination to execute a digital festival," he continued.
With more list of program line-ups to be announced, KLEFF 2020 is set to showcase the flagship KLEFF film screening and award ceremony, the School of Sustainability (workshops and talks), Act4SDGs (SDG-driven initiatives), Green Vibes (live performances), a Digital Fundraising campaign and more.
"As the committee gears up to organizing yet another enriching eco-themed film festival, we are hopeful and driven to continue the environmental advocacy by any means necessary," said Fadly.
KLEFF hit its 13 years of milestone with a stronger aspiration to bring climate- and eco-themed films to the national screen. In line with its mission to provide equal access to environmental education and implant the concept of sustainability into Malaysian consciousness – this year, KLEFF introduced a nationwide call for 10,000 public signatures to bring KLEFF films (past, present and future) into the mainstream media (national TV broadcast).
"KLEFF will continue to honour the stories, experiences and movement centered around sustainability and the environment to the highest standard," echoed Fadly.
Stay tuned for more exciting news and updates regarding the 13th edition of KLEFF in the coming weeks. Visit the official KLEFF website for more information and get involved with the activities by clicking here. For partnership inquiries about KLEFF, contact Fadly Bakhtiar at fadly@ecoknights.org.my or contact Ms. Nabila at nabila@ecoknights.org.my for more inquiries about KLEFF.
-End –
ABOUT THE KUALA LUMPUR ECO FILM FEST (KLEFF)
The International KLEFF is Malaysia's first and longest-serving platform promoting sustainable living through showcases of environment-themed films, workshops, talks, exhibitions, Impact Market, local performances and other engaging activities. Organized by the non-governmental organization, EcoKnights, KLEFF features groundbreaking films that kindle important dialogues, traversing the relationship between humans and their environments, challenging the way people think about the natural world and inspiring them to discuss, explore and act on important environmental issues.
Further information may be found at kleff.my
ABOUT ECOKNIGHTS
EcoKnights® is a non-governmental environmental organisation that provides and delivers development and environmental interventions to communities, government agencies, learning institutions, and companies to mobilise and catalyse the stakeholders towards sustainable development across trans- and interdisciplinary fields to build bridges towards achieving sustainable communities and companies across five main pillars. 
The pillars are Public Outreach, Community Development & Education (CDE), Rehabilitation, Restoration and Conservation (RRC) as well as Youth Development & Volunteerism (YDV), supported by Sustainability Communications. Each pillar helps to strengthen the legacy of EcoKnights as it empowers the Knights to ideate, create, run and organise meaningful projects to impart long-lasting sustainable and economic impact to the country.
---
For media enquiries, please contact:
Fara Amina Othman,
Digital Content Officer of EcoKnights,
fara@ecoknights.org.my