[FOR IMMEDIATE RELEASE]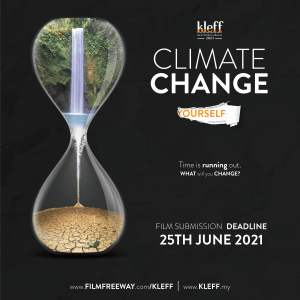 10th March 2021, Kuala Lumpur – The Kuala Lumpur Eco FIlm Fest (KLEFF) is back for its 14th instalment!
Malaysia is home to South-East Asia's first and longest-running homegrown environmental film festival for the past 13 years; EcoKnights is proud to announce that the 14th International Kuala Lumpur Eco Film Fest (KLEFF) has launched its call for film submission on the 10th of March 2021 via FilmFreeway, a global digital platform for filmmakers to submit their films to hundreds of film festivals.
With KLEFF's strong advocacy in climate change, the theme this year is, 'Climate Change (Yourself)'; whereby the festival seeks for thought-provoking films that explore self-initiated changes that we can make on different levels and capacities, with the right mindsets and habits.
Returning from the 2020 pandemic phase that marked a new beginning for KLEFF as a digital film festival, KLEFF is continuing its role as a media platform for filmmaking, story-telling and knowledge-sharing in the global transformational journey towards sustainability, in society, economy, and environment.
Festival Director Fadly Bakhtiar quoted, "The decision to go on with KLEFF despite the pandemic is motivated by our firm beliefs that environmental advocacy to fight climate change must go on, and the call for climate action never stops, even amidst a global pandemic. Last year's debut as a digital festival was a huge milestone with a steep learning curve for the team. We received encouraging response and support from our loyal supporters, thus proving that we need to be innovative and dynamic to keep our mission going now that the festival has evolved digitally."
He also shared his views on this year's theme, and believes it will shine a spotlight on the important issue at hand for the general public and audience by highlighting the importance of behavioural change in societies, as societal norms are a key factor in addressing climate issues.
Submission is open on the 10th of March until 25th June 2021, whereby the films will stand a chance to be screened in the festival as well as run for various awards in the KLEFF Film Competition, after going through an evaluation process by the festival committee and film panel jury. The festival accepts films of different genres which are long documentaries, feature films, short documentaries, short films, animation and Public Service Announcement (PSA). Chosen films will be screened during the festival via its online screening platform, KLEFFlix.
"For the past 13 years, we have been receiving films with inspiring stories that advocate for various sustainability topics and the call for action to make changes for a better world. That's the beauty and strength of the filmmakers, they are educators and advocators through their lenses and story-telling. Meanwhile film festivals like KLEFF are the right platform to showcase the filmmakers' magic," commented Nabila Shohimi, Festival Manager.
Interested or aspiring filmmakers can submit their films in FilmFreeway: KLEFF 2021 within the timeline and film submission deadlines.
Deadlines

Dates

Submission Fees

Earlybird Deadline

30th April 2021

·   Long Documentary/Feature Film: USD 25

·   Short Documentary: USD 15

·   Short Film: USD 10

·   Animation: USD 10

·   PSA: USD 10

Regular Deadline

31st May 2021

·   Long Documentary/Feature Film: USD 30

·   Short Documentary: USD 20

·   Short Film: USD 15

·   Animation: USD 15

·   PSA: USD 15

Late Deadline

25th June 2021

·   Long Documentary/Feature Film: USD 35

·   Short Documentary: USD 25

·   Short Film: USD 20

·   Animation: USD 20

·   PSA: USD 20
In case both potential filmmakers and the audience would like to have a taste of what is to come, head on down to KLEFF 2020 Films where you can find the past submissions. We recommend filmmakers to read the full Rules and Regulations before submitting your films.
After the launch of film submission, KLEFF will be building up more content and relationships to add more value to the festival's journey in climate action and other sustainability missions. The festival committee invites those who share the common ground with KLEFF or have impactful collaboration ideas such as outreach efforts, resource mobilization and filmmaking empowerment, to develop partnerships with KLEFF.
The festival has previously collaborated with the International Greentech & Eco Products Exhibition & Conference Malaysia (IGEM) for 5 years in sharing outreach platforms to educate more people about sustainability. Other than that, KLEFF has worked with a few partners to award and recognise winning filmmakers – River of Life (ROL) for the 'River of Life Award'; and United Nation Development Programme (UNDP) and Malaysian Public Work Department (JKR) for the UNDP x JKR Energy Efficiency in Buildings Award.
For more information pertaining to the festival, visit the official KLEFF 2021 website.
Contact details:
General: info@kleff.my 
Fadly Bakhtiar: fadly@ecoknights.rog.my
Nabila Shohimi: nabila@ecoknights.org.my